1st XI Cricket
Match report: St Paul's College 1st XI vs Westlake Boys High School 3rd XI, Murchison, Saturday 11 November
On another fine and sunny afternoon, St Paul's College won the toss and chose to bowl, looking to restrict the Westlake team. That proved more difficult than hoped, with Westlake negotiating the opening overs well, before losing their first wicket with the score of 28 runs. The Westlake batters continued to apply themselves well, and despite the loss of wickets at regular intervals, were able to maintain a run rate of around 5.5 per over to reach a very competitive total of 185/7 in the full 40 overs. Highlights were 2 wickets apiece to Solomon Nash (Year 12) and Joseph Samuels (Year 11).
In reply, the St Paul's batters also navigated the opening bowlers well, similarly reaching 28 before the loss of their first wicket. Slow but steady progress followed, with St Paul's top-order batters showing patience in the face of good bowling. Wickets at 49 and 57 created pressure, before partnerships of 41 between Solomon and Year 13 Enoka Sului (11 off 29), and 67 from Solomon and Year 10 Troy Fuimaono (20 off 26) saw the run rate accelerate. These two partnerships brought St Paul's to within 20 runs of their target with around 30 balls left.
The loss of Solomon for 88 runs with the total at 171 made for a dramatic finish, leaving Matthew Blanch (Year 10) and Hugo Lloyd (Year 9) to guide the team towards victory. A mix of patient batting, a little luck, several wides and no-balls from the Westlake bowlers saw the score steadily progress to 185, tying the Westlake total, before Hugo was dismissed with 8 balls remaining. Enter 'Iceman' Aisea Makasini (Year 12), who calmly hit his first ball past mid-on, allowing the batters to scamper through for the match-winning run!
Over and above the result and the individual highlights, it was extremely pleasing to see the St Paul's team continue to adapt to the 40 over game. In particular, the batters applied themselves extremely well to what was a sizable run-chase, taking responsibility for batting time and partnerships, and resisting the temptation to look for the quick but risky runs demanded in the T20 version of the game the team has previously played. As a result, the run chase always felt well-paced, with wickets kept in-hand early to set the platform for the acceleration that came as the Westlake bowlers and fielders tired late in the afternoon, and providing enough of a cushion for the lower-middle order to finish the game off.
Mike Blanch, 1st XI Assistant Coach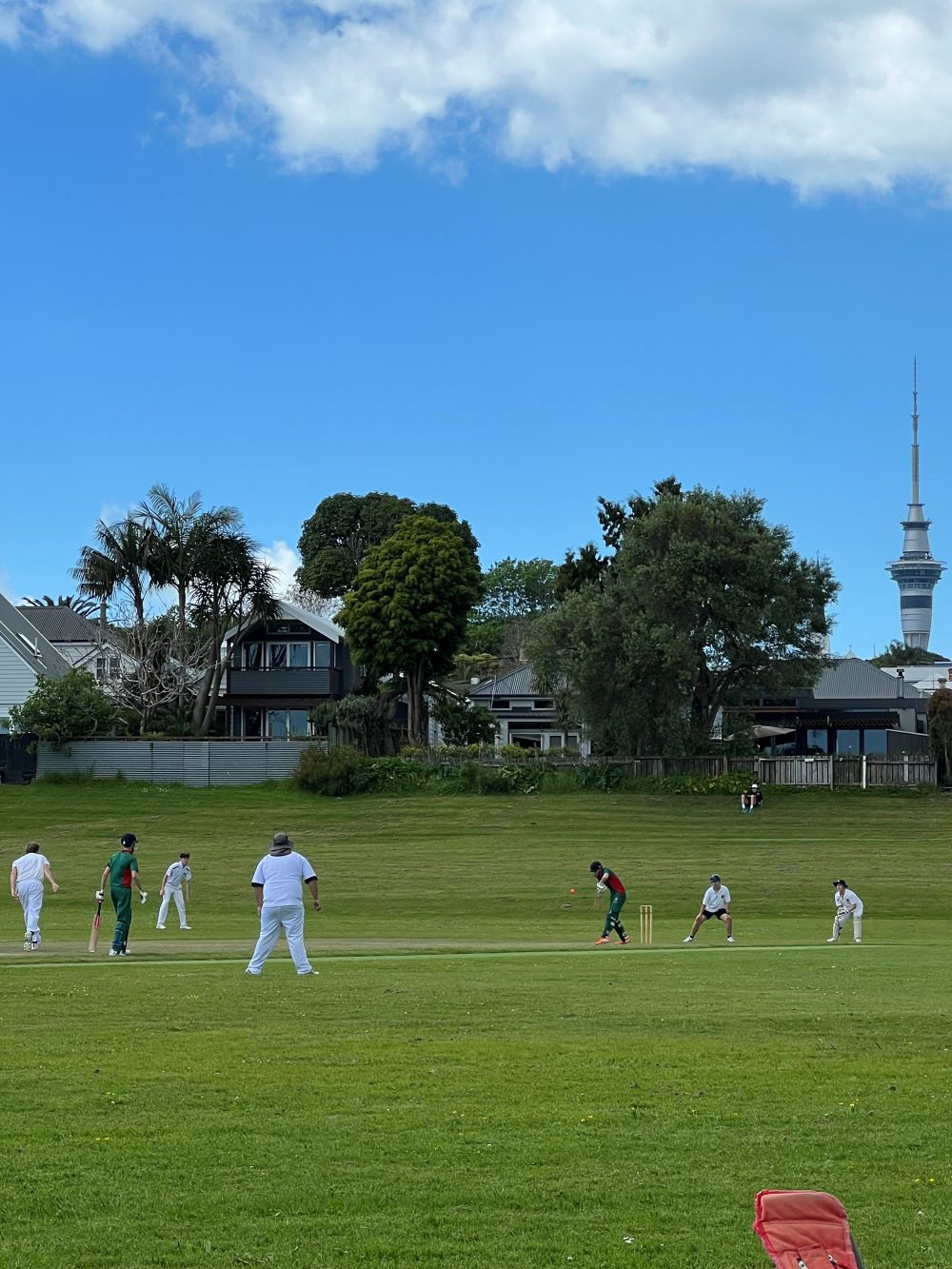 Lawn Bowls
Lawn bowls is a new code to St Paul's in 2023, one that we are excited to offer with our increasing sports offerings ensuring that there really is a sport for everyone at St Paul's - all ages, all levels of fitness and experience. On Wednesday 8 November, our lawn bowls team who have been practising at Mt Albert Lawn Bowls Club, travelled across the bridge for a tournament at Takapuna Bowls Club. This event saw St Paul's enter two teams of three bowlers, with Psalm-Muzeio Turua (Year 10), Hezekiah Tuimalatu (Year 8) and David Ngahe (Year 7) making up one team, whilst Christian Fa'aui (Year 8), Brycen Mason (Year 8) and Juel-Sardius Turua (Year 9) made up the other. Our students were initially nervous given their lack of experience but quickly saw that they weren't far off the benchmark of other schools, a timely reminder for these young men that with a little practice and commitment - we can compete with anyone in anything.
Sardius was our unofficial player of the day, whilst the sportsmanship of Christian and Psalm didn't go unnoticed in the wider community. I am so proud of these young men for trying a new sport and having the courage to enter and turn up to a tournament, against more experienced opposition. Much like football, orienteering and futsal (all new codes for 2023), you can be assured that lawn bowls will feature regularly in sport seasons to come, who knows - St Paul's next Olympic or Commonwealth medalist may be amongst our lawn bowls team right now.
Under 15 Rugby Sevens
St Paul's College Under 15 Sevens Team Shines in Blues Regional Tournament
The Under 15 Sevens team from St Paul's College showcased outstanding sportsmanship and determination at this year's Blues Regional Sevens Tournament held at Bruce Pulman Park. The team, consisting of talented individuals from Years 9 and 10 including Xavier Cocker, Lorenzo Ekeroma, AJ Glen, Daniel Kali, Siokatame Kali, Tane Keereweer-Taia, Samu Lavasii, Tnias Mana, Giovanni Meisake Falealeniu, Laverneus Nicholas Pita, Uli Toki Fisiifetau, Tuli Vagana, and Jacob Vea, represented the College with pride and passion.
The day kicked off with a challenging match against MAGS, resulting in an unfortunate initial loss. However, the team displayed remarkable resilience, staging an impressive second-half comeback to finish with a scoreline of 25-17. Despite another loss to tournament favourites Kelston Boys High School (24-17), the boys exhibited true grit in the closing minutes, extending the match by three minutes.
In the final pool game against Manurewa, St Paul's emerged victorious with a score of 26-10. The team's exceptional movement off the ball and well-executed set-piece tries, notably by Tane Keereweer-Taia on the edges, demonstrated their skill and teamwork.
After a well-deserved lunch break, the team entered the finals with a playoff against Dilworth. St Paul's delivered a dominant performance, securing a resounding 42-5 victory, thanks to fantastic tries from players like Laverneus, Uli, and Siokatame.
The last game of the day, a playoff for 5th place overall against Rangitoto, showcased St Paul's prowess in set pieces and effective lineouts. The team claimed the 5th position in the tournament with a convincing 28-7 win.
Special recognition goes to the top points scorer, Tane Keereweer-Taia, who accumulated an impressive 36 points throughout the day. The success of the team wouldn't have been possible without the guidance of Coach Mr JP Faaumusili and the efforts of Manager Mike Jarvis.
St Paul's College congratulates the U15 Sevens team on their commendable performance and looks forward to witnessing their continued success on the rugby field.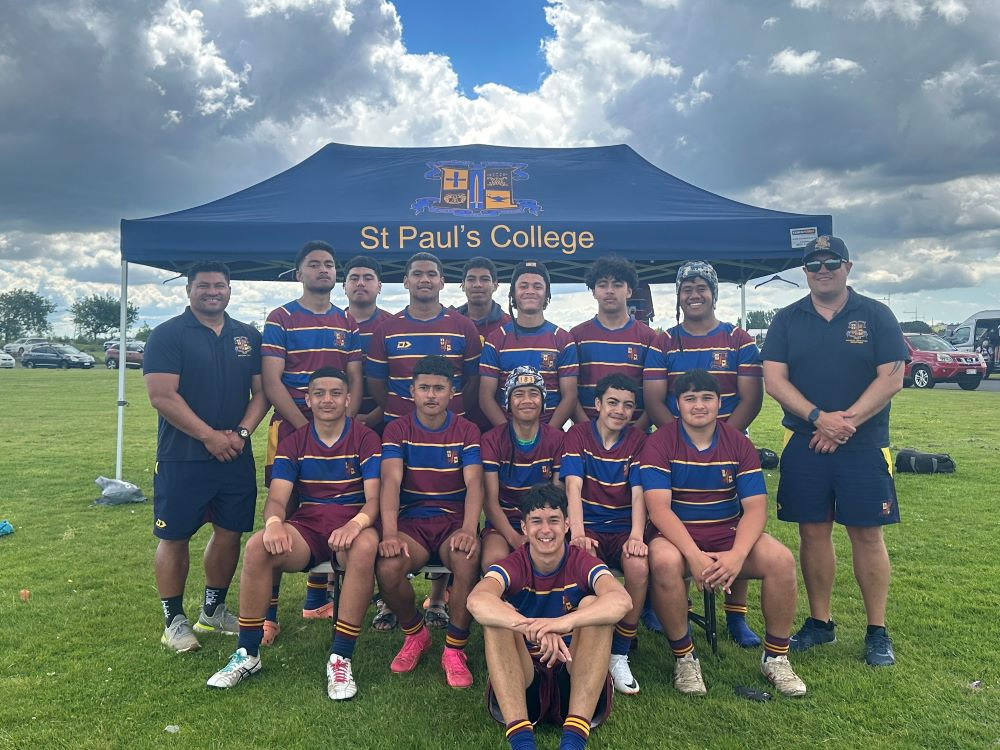 Central Zone Volleyball
Our Junior Volleyballers have had a successful season with our Under 15 Maroon team winning the grade! Going through the season undefeated, before beating MAGS in the grand final was an excellent result and a reminder of what's on offer if our students are willing to put in the hours of training.
Not to be left behind, our Under 15 Blue team finished in third place, only losing to MAGS in a semi-final.
Senior students Enoka Sului, Shemaiah Foti, Freedom Aiga and Aiga AJ Aniterea (all Year 13) have been invaluable with their coaching, leadership and instilling confidence in the next generation of St Paul's Volleyballers.
Thank you to Mrs Tagaloa, without her energy, commitment and enthusiasm these two teams would not have been able to compete. She has been assisted by many staff members with transport making these results a real team effort, from student coaches to staff members chipping in to set up two very successful sport teams. Well done to all involved.
Junior Volleyball - Auckland Championships
On Wednesday, Thursday and Friday this week, our under 15 volleyball team competed in the Auckland Junior Volleyball Championships.
Wednesday saw them face tough teams from premier grades but our boys held their own against them even if they didn't get the win. The highlight of Wednesday was playing two exciting and very close sets against Kelston Boys College.
On Thursday we had a strong two set win against Glendowie College. Playoffs were today and the boys played extremely well against Ormiston College but just went down in the second set.
Unfortunately our second game today was defaulted by the other team, placing us overall 11th in Division 2. Well done boys.
I couldn't be prouder of our St Paul's young men who played in this tournament. Being our first time entering an u15 team, the boys did exceptionally well and we can only build and get stronger from here. I am very excited to see many of these Year 10s move into the senior grade next year as they have so much potential.
Thank you so much to our senior coaches; Shemaiah Foti, Enoka Sului, Freedom Aiga and Aiga AJ Aniterea. I really appreciate all the time and effort you have put in to coach these boys and support me as the manager. Your passion has started a real growth in volleyball at SPL.
Mrs Tagaloa