Old Boys vs Waitakere College
On Saturday 22nd March, the College hosted its annual Old Boys game versus our favourite West Auckland rival, Waitakere College, with this year's Old Boys being represented by the classes of 1990 and 1991.
The day started with an excellent jersey presentation with the following Old Boys sponsoring a jersey for the 2021 season: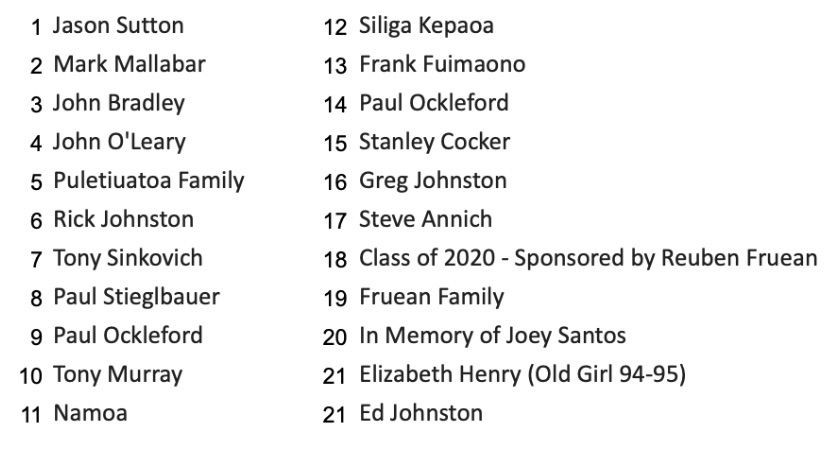 As aromas wafted from the traditional pig on a spit the dads were cooking for the after-match, Mr Jarvis introduced the Old Boys who had sponsored jerseys with the assistance of Mr Fouhy, looking refreshed from his sabbatical, and Terry Horne, the former SPL 1st XV super coach!
It was great to see Siupele Aho, Reuben Fruen, Jeremiah Margraff and Sio Tuima representing the team of 2020 as jersey sponsors too, as well as, an original SPL "Old Girl" presenting Jessiah Tonaii's jersey, being a proud highlight of the presentation.
At the conclusion of the game, the pig had been carved up and the Old Boys were in great spirits from watching a fantastic game of rugby with St Paul's winning 38 - 5. Once the boys were changed and seated and the match formalities completed with some excellent speeches from the coaches and Waitakere Headmaster and SPL Old Boy Mr Mark Shanahan, the food was consumed, stories and memories were shared, and for a day, those Old Boys were transported back to their old home which will forever be theirs.
The College would like to thank Marie Ackland for organising the jersey sponsorships, Carly Puletiuatoa, Serah Lupo and their band of amazing mothers and fathers for producing an amazing after-match feed, the coaches for their continued hard work with our young men, and Waitakere College for their continued support in this venture.
Mike Jarvis, with support from Glenn Anderson
Michael Jarvis
Year 10 Dean
E: [email protected]