Rugby, Rugby League, Basketball, Badminton, Year 7 and 8 Sports and Student Referees
1st XV Rugby Match Report
The 1st XV played their first away game of the season against Otahuhu College. The first half got off to a good start with two tries inside the first fifteen minutes, to Jessiah Tanoa'i (Year 13) and Richard Faleono (Year 12). Despite playing against the wind, the team dominated the early exchanges, through strong forward play led by Manako Piutau (Year 13) and AJ Jones (Year 13). Resilient defence kept Otahuhu restricted in their own half, and with constant pressure, another try was scored by Sio Kali (Year 12) to end the first half. Conditions worsened in the second half with heavy rain making it tough to play running rugby, however like the first half, old-fashioned wet weather rugby, which is dictated by defence and territory led to a further three tries by Year 13s Levron La'Akulu, Manako Piutau and Johanas Smith. Final score, a 34 - 5 win to St Paul's College.
The 1st XV would like to thank our families, students and supporters, who braved the conditions to support the team.
2nd XV Rugby
With a squad of 32 we were faced with a great challenge for the start of the 2022 season. Picking a strong 22 for game day was not easy due to the talent we had across the 32 players. We only had two trainings leading into our first game which was against De La Salle. Even though we lost that game 27 - 12, the team took a lot of learnings from this. We could see where our strengths were and what we needed to improve on.
We had better preparation for our next game which was against Sacred Heart. The lads were unlucky not to win this game due to a couple of missed opportunities on their try line, going down narrowly 15 - 7. Our defence on the line was something to be extremely proud of holding out the visitors on numerous occasions.
The weather had put a halt on the last couple of trainings before our most recent game, we were not as prepared as we would like to have been, but the team was so up for the challenge. We played Auckland Grammar at Auckland Grammar. The team we selected represented the school with a hearty performance holding up the opposition from scoring apart from a questionable penalty try awarded to Auckland Grammar in the final moments of the game. The first win of the season 22 - 7.
The coaching staff is looking forward to the rest of the season as this group of young men are only going to get better as the season goes on.
Coaching staff - Major Collins and Nale Filipo
Manager - Kaysiah Collins
U15 Rugby
To start their 2022 campaign, the U15 rugby team faced the unfamiliar challenge of having too many keen young men ready to represent their school playing the sport they love. Although a great problem to have, through a thorough but fair process, the coaches were forced to work the team down to a manageable number where they could focus on the task of playing rugby and building a sound group of players for the years ahead.
Following three consecutive and convincing wins against Howick College 48 - 10, Auckland Grammar 62 - 7 and Pakuranga College 38 - 5, we currently sit at the top of our table.
Thank you to all our families who support the team. It's a long road ahead, however your continued support will contribute greatly toward seeing the job done!
1st XIII Rugby League
Our premier rugby league team continues its dominance in College Sport's Wednesday night competition with an unbeaten season so far. With two games to go, Coach Frank Fuimaono's team look fit, disciplined and committed to their goals. Many young players have stepped up this year but of note are Year 13s AJ Jones, Jessiah Tanoa'i, William Piliu and Johanas Smith. These young men have been with St Paul's since Year 7. They are passionate, committed to the college and with this dedication alone, the 1st XIII will be very hard to beat. All things going well, the team will play their grand final at Mt Smart Stadium on the 29th of June.
U14, U15 and Senior A Rugby League
At the time of writing, all rugby league teams have qualified for semi finals. Well done to our volunteer coaches, teaching staff and parents who have supported these teams through the winter. We eagerly await results from this week with the grand final night just weeks away for all grades.
Basketball
Our basketball teams are quietly working away in the background with a mixed bag of results. The Under 17 team, which is a glimpse into the future, have recorded some strong wins lately with convincing victories over Western Springs College and Massey High School. Captain Ethan Ropati-Delaney (Year 12) is a consistent performer, showing great leadership and resilient defence. Byron Toko (Year 12) and Filipe Fakauho (Year 10) have continued to build on their recent representative experience with the U17 and U15 Auckland teams respectively. Well done gentlemen, with basketball's enormous popularity, earning representative honours is no easy feat.
In the junior ranks, Leaam Kelemete (Year 10) continues to impress, and AJ Glen (Year 9) has proven to be a reliable shooter all season.
Badminton
Josh Benoza (Year 10) and his team of Juniors have been working hard, competing against teams much older than themselves. Thank you to Mrs D'Souza for managing this team, with the obvious commitment and passion our players have to the code, I anticipate a bright future for badminton at St Paul's College.
Year 7 and 8 Sports
The Year 7 and 8 Sports Exchanges played vs St Kentigern's this week in both basketball and rugby. Our basketball teams had two great games with St Kentigern's Boys School as fantastic hosts.
Our AIMS basketball team continues to impress with a 6-1 recorded, six wins and only one loss so far. Some promising talent coming through the school.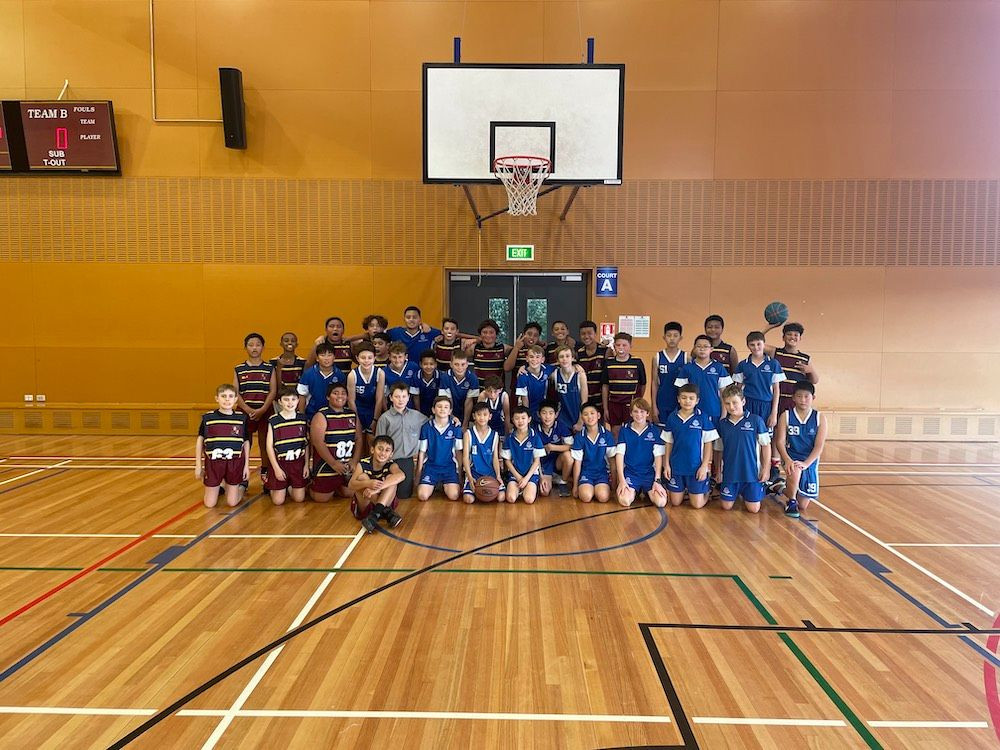 Student Referees
Refereeing is a thankless job which people very rarely put their hand up to do. I have been most impressed by our student referees who have picked up the whistle for basketball and rugby union in Term 2. It takes courage to do so and these efforts do not go unnoticed. Our two stand-out basketball referees are Nathan David (Year 12) and Kyan Henry (Year 11). To all senior basketball teams, thanks for the continued commitment in refereeing College Sport fixtures, and well done to the students who have refereed for the first time this year, not an easy task!