Rugby League
What an excellent night at Mt Smart last night, Wednesday 29th of June where our 2nd XIII and 1st XIII rugby league teams went through undefeated seasons to earn a place at the grand final.
2nd XIII Report
Torrential downpours started in the warm up and didn't let up until after full time. This was something the team had discussed with maturity in the changing rooms, altering their attack and defence structures with the slippery ball and field being an issue for both teams. St Paul's were well up for the final game with committed defence and brave carries, taking a 10-0 lead into halftime. After re-grouping and a quick rest the team put their foot to the floor and gave absolute effort on every play, whether it was making a tackle or carrying the ball, the 2nd XIII did the St Paul's jersey proud winning the game 24-8. Exceptional leadership from Noah Hetetu-Davis (Year 11), Blade Scully (Year 12) and a big game from Sione Siulua (Year 12) provided a game to remember, well done gentlemen - we are very proud of the way you have conducted yourself all season, a young team playing opposition 1st XIIIs, the odds have been stacked against this team all season. Confortare Esto Vir!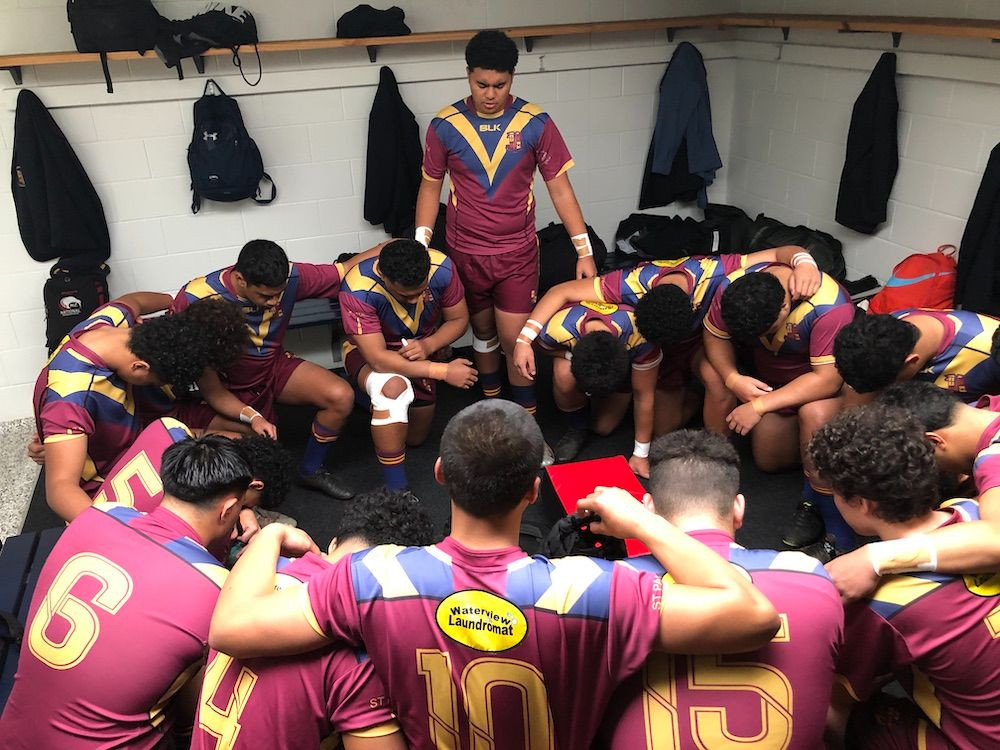 1st XIII Report
A much anticipated game between a well drilled De La Salle team and our 1st XIII in front of a sellout crowd, emotions were running high after spirited hakas from both teams. St Paul's opened the scoring after committing defence where St Paul's kept turning up for each other, time after time. Just before halftime St Paul's scored again! With a late offload from Sio Kali (Year 12) putting Francis Antonio (Year 12) into the corner. William Piliu (Head Prefect) kicked an excellent conversion from the sideline, despite the vocal crowd doing their best to distract him. 12-0 going into halftime was always going to be hard for De La Salle to come back from, especially as they hadn't been under pressure like this all season. The pressure didn't let up with St Paul's again coming forward on defence in big numbers - tackle after tackle, it's often said that "defence wins championships" and this was on show for all to see with outstanding tackling and fitness from St Paul's. Some sharp play from William Piliu put Kesaia Sua (Year 13) over in the corner and the 16-0 scoreline remained the same until full time!
I have had the pleasure of seeing many St Paul's rugby league teams over the years, but the team of 2022 will surely be one to remember. The preparation, humility, fitness and "classroom first, rugby league second" mantra has paid off. This team has two more jobs to do - 1st XV rugby union season is the first job, we won't celebrate our successes in Rugby Union until the end of that season - with an ambitious goal of winning the 1b competition. The National schools' rugby league tournament is the second job - a title St Paul's has not won since 2012. It's very clear to all who have witnessed this team and this group of young men that their story is not yet finished.
Thank you to Frank Fuimaono, Junior Fiu, Ardyn McCarthy for their coaching and support. Proud Old Boys who give up their time to help create precious memories for current students.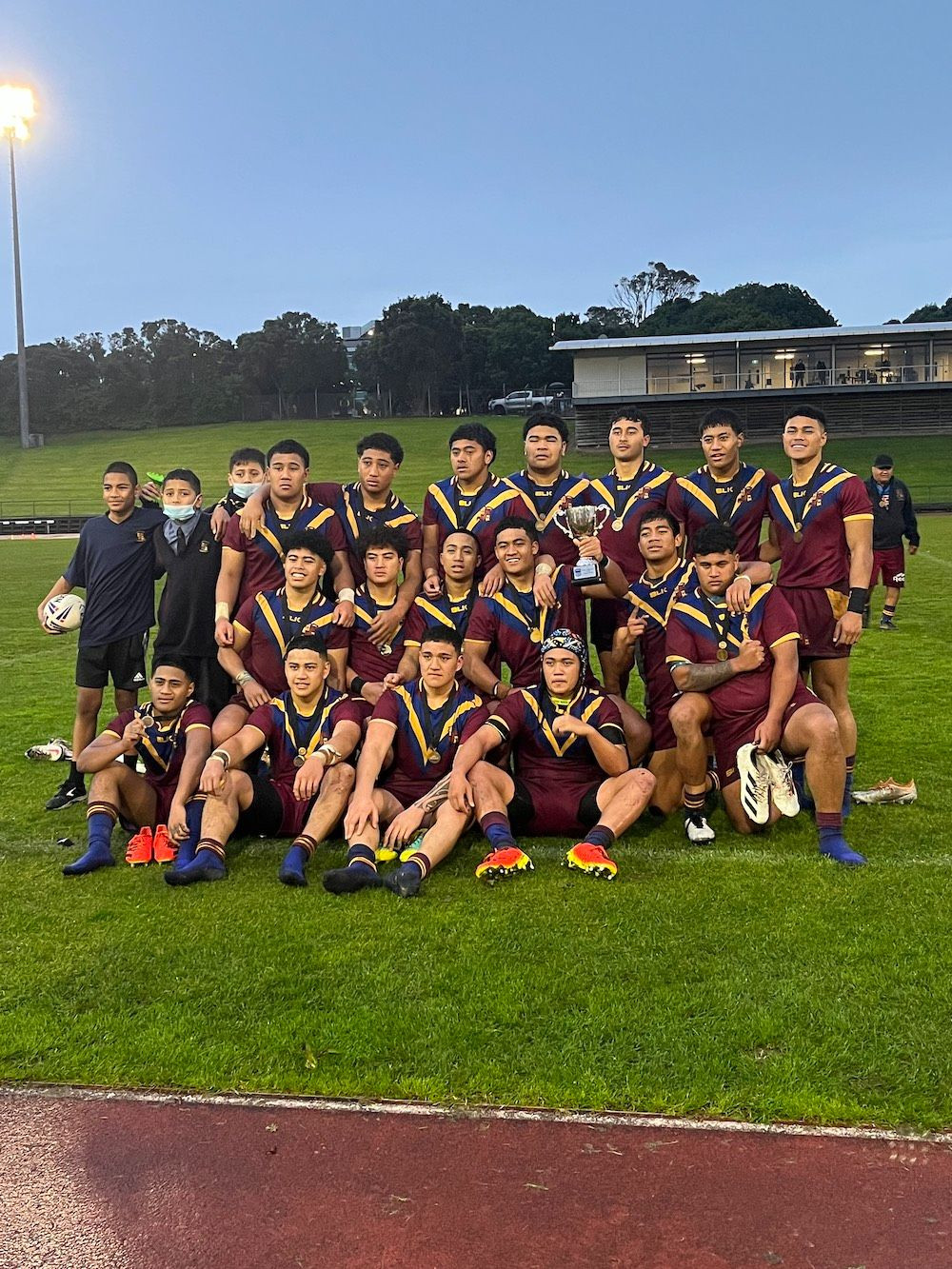 "Offence wins games, but Defence wins championships" - Vince Lombardi
Vince Lombardi was a famous gridiron coach, his words of wisdom are often put up on the changing rooms of sport teams all across the world from a variety of codes. What I've observed from our Premier rugby union and rugby league teams has aligned with this famous quote. Defence is hardly a part of any game which most players enjoy - everyone wants to score tries, kick goals, shoot hoops, make passes and pull off fancy plays - but players are often hesitant or less excited about defending. I think this has been the secret to St Paul's recent success with the oval ball - passionate, committed and resilient defence. Observing a team's "attitude" on defence will often give you an indication on how bad they want to win. Holding teams like Mt Roskill Grammar, Howick College, De La Salle, Kelston Boys or Mt Albert Grammar to 0 points is a statistic we should be very proud of, as these are schools known for their attacking prowess.
This enviable statistic comes from fitness, mental toughness and an unwavering commitment to your teammates that you won't take a rest, slack off or give up on a single play. Our 1st XIII and 2nd XIII rugby league teams finished the regular season with the best defensive statistics in the competition - this is why they were unbeaten, this is why they won their championships.
U15 Rugby League Development Team
On Wednesday we faced Westlake in the semi-finals. Westlake scored the first try followed quickly by St Paul's scoring next. At half-time the score was 4 - 4. In the second half St Paul's took the lead 8 - 4 but Westlake came back to even the score to 8 - 8. In the last 10 minutes, Westlake went on to score one more try with the final score being 12 - 8.
Although our season is now over for this young team of Year 9 students, it was definitely a season full of determination and skill. Throughout their games our boys have played well beyond their years in terms of their skill level, perseverance and sportsmanship and should be very proud of their development and improvement which was evident from game to game.
Seeing the achievements of this young team makes me excited for the future of league at St Paul's College.
I would like to thank our coach Taisyn Williams who has given up his time and made significant developments with these boys and thank you to our parents who have supported the games and helped with transport every week.
Bring on 2023!


1st XV Report
On Saturday, we played Mt Roskill Grammar away. A close first half saw only a try scored by St Paul's on a slippery field with a lopsided penalty count keeping the pressure on the defence. Halftime gave St Paul's a chance to refine their tactics, adjust some positional play and take to the second half with confidence. Sure enough, the flood gates eventually opened as St Paul's piled on the points through Sio Kali (Year 12), supported in the backline by his younger brother Lucky Kali (Year 11) and led around the park with William Piliu (Head Prefect) and his smart attack. Possibly an unsung hero of both the 1st XV and 1st XIII is Jessiah Tanoa'i (Year 13), a prefect who has always displayed exceptional leadership on and off the field. Jessiah is probably a victim of his outstanding work ethic on defence, he may not feature on the highlight reels scoring flash tries or big attacking plays, but he will be the first to lead the defence, the first to be in the kick chase, the first to put pressure on a kicker (in both codes). These are not tasks which fans and the untrained eye notice or celebrate, but to coaches and teammates they are priceless. Final score St Paul's 36 to Mt Roskill Grammar 0.
| | |
| --- | --- |
| | |