Athletics, Cricket and Basketball News
Athletics Day
Monday 22nd March was a very successful Athletics Day at Mount Smart. Students competed in shot put, discus, long jump, high jump, 100m and 400m.
The results are as follows:

Special mention goes to the following boys who were the highest point scorers for their year group: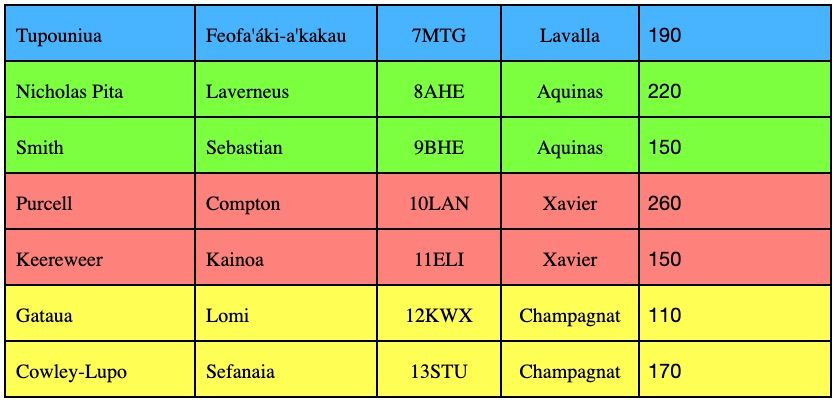 Well done to everyone who took part and a big thank you from the PE department to the teachers and admin staff who made the day possible.
Michael Jarvis
Year 10 Dean
E: [email protected]
Auckland Secondary Schools Athletics Champs
Both St Paul's boys took home medals at the Auckland Secondary Schools Athletics Champs.
Kainoa Keereweer (Year 11), Silver in the Intermediate Boys Long Jump with a jump of 6.11m.
Loshaunce Leaso (Year 12), Bronze in Intermediate Boys Discus with a throw of 45.78m! (A new PB for him as well, I think?)
Both boys now currently have NZ rankings in the U18/Youth Men category for their specific events.
Two medals from two St Paul's representatives at Auckland athletics champs! Not a bad effort!
Saint vs Saint Cup Cricket Match vs St Mary's
On the evening of Wednesday 24th March, St Paul's and St Mary's competed in the first ever match for the Saint vs Saint Cup, donated by St Mary's and to be decided in cricket games between these two proud Ponsonby Catholic schools. Batting first, St Paul's, represented by the Colts team (Year 10 and under), were well contained by some accurate, and at times challenging, bowling by the St Mary's 1st 11, finishing with a total of 103/4 in their 20 overs.
In reply, St Mary's staged a mid-innings recovery following the loss of early wickets to catch up to required run-rate. With four overs - 24 balls left - just 25 runs were required and a tight finish was in order. St Mary's kept the scoreboard ticking over, and with 2 overs left and the total still well in St Mary's sights, Colts captain Stephen Thomas took the ball. Two wickets in successive deliveries – and a hat-trick narrowly missed courtesy of a dropped catch – provided the cushion St Paul's needed to secure the inaugural Saint vs Saint Cup victory by a margin of just 10 runs.
The cup was presented to St Paul's by the St Mary's team, and a 'cricket cake' and pizza supplied by St Mary's was enjoyed by both teams and the supporters on-hand. It was a pleasure and privilege for St Paul's to host the St Mary's team who not only displayed great cricket skills, game craft and sportsmanship, but who were also outstanding ambassadors for their school.
Both teams are keen for a rematch, with talk of making it a twice yearly fixture. Watch out for details in Term 4.
Cricket
What a season Term 1 2021 was for our cricket teams, both going undefeated through their games.
Such an achievement is no fluke - it's off the back of commitment. Commitment to training, commitment to games, commitment from families, commitment from players. Little things like having the right training gear, turning up to training ready to listen, learn and improve, being organised and on time, every training, every game - all season.
Cricket is certainly not something that St Paul's College is known for, but this is a perfect example of what happens when our young men apply themselves. Whether it's cricket, calculus, the classroom or the court, our success will always be a reflection of our preparation.
Thank you to Mike Blanch, Jo Lloyd and Dion Nash for going the extra mile this season. Thank you to Dr Tamanam, Ms Haybittle and Andrew and Ms Stevens for their continued support of our cricket program at the senior level.
We're looking forward to Term 4 already with the intention of moving up grades and adding more teams. Watch this space.
Basketball
With winter season drawing nearer, we're excited to announce the arrival of Ronan Jebb, our new Director of Basketball. Ronan hails from Glasgow in Scotland and has a wealth of experience in basketball coaching and community basketball programs. He will be at St Paul's fives days a week - morning and afternoon - as we look to take our basketball to another level in 2021. Ronan says he's excited about the opportunity to work with all of our teams, young and old, as basketball looks set to be the most popular sport at St Paul's College in 2021.
Footy Boots
With rugby and league season rapidly approaching, many families will be out purchasing boots for their sons. When buying boots, no matter the budget, you'll often be given two options; moulded (plastic) soles or old fashioned metal sprigs. I would recommend metal sprigs for NZ conditions. Plastic soles are great for dry, fast fields found in Australia, or at our elite sports grounds, but most of the fields our students play on will be muddy and heavy. Being able to grip the turf means your son has a better chance of changing direction or pushing in a scrum without slipping over.
Dave McDermott
Director of Sport
E: [email protected]